Complete Roofing Services in Honolulu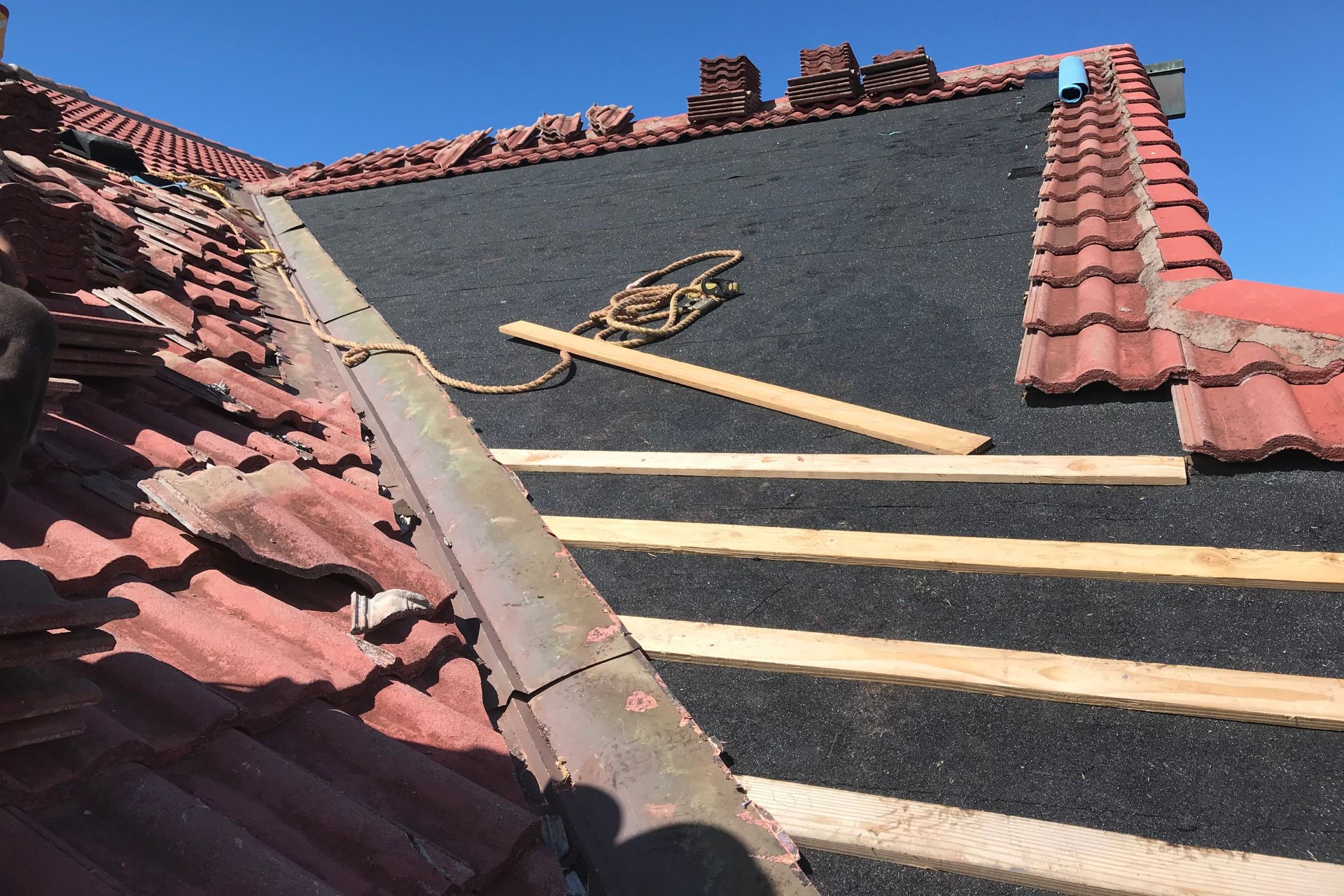 The overall effect of your home or business adds to the beauty of this city and we at Oahu Roofing & Repairs take pride knowing we have a hand in maintaining that beauty through the years! We care about our neighbors and community, ensuring that all of our customers and clients are happy with their roofing installations and repairs. Our team has years of experience working with all types of materials, fixing every type of roof damage, and installing any roof you can imagine! We're ready to engage with you on your next roofing project so give us a call today!

Comprehensive roofing services

Residential roofing
Commercial roofing
Industrial roofing
New installation
Damage claim specialists
Free estimates
Free in-home consultations
Military and senior citizen discounts
24/7 emergency service
Serving Oahu & neighbor islands
No matter the size of your project, we give your roofing needs our full attention and consideration! Our team and company has over 20 years of experience roofing here in Honolulu and we want to make sure we do a great job every time. Each project is backed by a 7-year workmanship warranty so if you're not satisfied with our work, we'll help you get it fixed!
Quality roofing work in Honolulu

Keeping up with the latest roofing technologies and materials puts our company on the cutting edge of roofing in Honolulu where we offer the best roofing services for the most competitive prices. Our roofing contractors have served the city and county of Honolulu for decades and we have no desire to stop! We enjoy contributing to our city and island and we're ready to offer you our years of expertise for your next roofing project.

Interior and exterior roofing services

Installations
Shingle
Shake
Metal
Steel
Standing seam
Aluminum shake
Tile
Slate
Metal bending
Rot repair
Pitched roofs
Copper
Ceramic tile
Flat roofs
Tear offs / re-roofs
Roof coatings
Covers
Emergency tarping
Torch down bitumen
Tile painting
Flashing manufacturers
Storm damage
Affordable roofing services

Cost is a major factor when you're considering repairing or replacing your roof, no matter the material. We pride ourselves on offering high-quality, budget-friendly solutions for any of your roofing needs! For budget-conscious homes and businesses, we have low-cost high-quality 3-tab and architectural roofing shingles that along with regular maintenance can ensure that your roof lasts for 15-20 years more!

High-quality roofing solutions in Honolulu

The up-front cost of repairing or installing a new roof can seem steep. But over time that cost is deferred and made up for by the maintenance and energy costs you'll save. Getting your roof looking great can prevent further damage and increase your homes curb appeal. Call us at Oahu Roofing & Repair to get a free consultation and estimate for your high-quality, budget-friendly roofing solution!

Types of roofs

Commercial / industrial
Condos
Apartments
Retail stores
Restaurants
Investment properties
Hotels
High rises
Schools
Military installations
Churches
Bus stop shelters
Coatings

HydroStop
Visqueen
Gaco
ABC Roofing Supply
PABCO
Rustic metal roofing
CertainTeed
Roofing solutions for your Honolulu home or business

The Honolulu roofing contractors at Oahu Roofing & Repair are experienced in all major types of roofing materials like shingles, tile, and metal. We're ready and waiting to do roofing installations, re-roofing, roofing repairs, and more for your home or business!

Shingle Roofing

Asphalt shingles are the most common and affordable option for roofing solutions in Honolulu. They're anything but boring though as they come in a wide range of colors and styles that allow you to customize your roof. Asphalt shingles are fire-resistant and easy to install which makes them ideal for any home in Honolulu!
While there are a great many benefits to shingle roofing options they do have a few disadvantages, the foremost of which is a tendency to rot. The protective oils in the shingles wash out over time and water can leak into the roof. Shingles are also prone to wind damage which is a distinct problem given Hawaii's weather. With proper maintenance from a dedicated roofing contractor like Oahu Roofing & Repairs, shingle roofing lasts around 20 years!
Tile Roofing

Tile roofing is a great solution for Honolulu homes and businesses as it's thermal, pest, and wind resistant, and will not rot or corrode like shingles. Tile is naturally waterproof and lends itself to be very low maintenance over time. With a wide variety of colors and styles to choose from, you can customize your roofing solution to fit the needs and style of your home or business with ease! Plus, tile roofs can last for 100 years or more with proper care!.

For every great solution, there are a few cons to add to the list and tile roofing solutions are no exception. Tiles are weather-resistant but are brittle. Impact damage can happen frequently given Honolulu weather and tiles must be installed carefully to ensure that they're waterproof. Tile roofing is also heavy and not all homes or business can support the weight. When you contact us at Oahu Roofing & Repair, we can give you an estimate and let you know if your home would be able to support or benefit from a tile roof!

Metal Roofing

With the wind gusting over 100 mph multiple times a year in Honolulu, metal roofing is becoming a very attractive option for homes and businesses in the city! Metal roofing is wind resistant and can withstand the massive hurricane and wind storms that sweep across the island. Metal roofs are also fire and pet resistant and help keep your home cooler in hot weather, reducing the need for excessive air conditioning in a tropical climate like Hawaii.

Metal roofing is energy-efficient, reflecting rather than absorbing the sun's rays to help reduce your air conditioning needs indoors. You can also customize your metal roof by painting it to suit your tastes. Paints and coatings can reduce the noise of rain and increase the energy efficiency. Older metal roofs can occasionally struggle with rust discoloration but new aluminum roofing systems installed by certified roofing contractors like us, can last a lifetime with no rust at all!

Expert shingle roof repair and installation

Every roofing contractor in Honolulu works with shingles but Oahu Roofing & Repair offers asphalt shingle roofing services that are second to none! Our expertise allows us to offer you shingle roofing repairs that don't require full roof replacements. You can also opt to customize your home with colors and designs of 3-tab and architectural shingles. In addition to shingle repairs, our team can put on a roof coating that will add years of life to your new or existing roof plus reduce your energy bills! Call us today for a free consultation and estimate and get our team to your home to get the job done!
Metal roofing installation services in Honolulu

With over 20 years of experience in metal roofing, Oahu Roofing & Repairs uses top quality materials with Underwriters Laboratories Class A Fire Rating and 90 Wind Uplift Rating to give you a tough metal roof that still looks great. All of our metal roofs are installed to your satisfaction and come with a limited lifetime warranty. Your free estimate and consultation is waiting! Just give us a call!
Your home is your largest investment. Protect it.

When you buy a home, you're putting in a serious investment and your roof is a huge part of your home. Your roof is more than just a top to your home; it brings your home together and protects everything under it from the elements. Oahu Roofing & Repair cares about your home, top to bottom with a special focus on your roof! Let us help you protect your home and investment with roofing repairs and installations that fit your style and bottom line!

The entire roofing system serves you and your family in a number of ways including venting excessive heat, channeling water into gutters, and protecting your family from storms. Investing in your roof system is an investment in your future! Working with high-quality roofing contractors like us gives you an advantage and protects your roof for years to come. Call Oahu Roofing & Repairs to schedule a visit from one of our Honolulu contractors to inspect or repair your roof today so it can protect you tomorrow.

Strengthen your commercial space

Updating your commercial roofing system in Honolulu now takes in the advance of new commercial installation techniques that can drastically reduce your energy bills. New tax codes in 2017 are a boon for your budget as installing a new commercial roofing system can be expensed immediately as part of qualifying improvements like fire prevention. The time is now to update your commercial roofing system with roofing contractors at Oahu Roofing & Repairs!
Roofing damage and claim specialists of Honolulu

When storms roll in, it can get stressful quick! Adding a damaged roof and leaking walls can make it hard to bear but even in the midst of storms, we're ready to help you take care of your roof. Our team at Oahu Roofing & Repairs works with you to get a free estimate that can go to your insurance company to get a claim fast. If you need emergency roof repairs, we're available 24/7 so don't be afraid to call us today!

Expert tile roof installation and repair in Honolulu

Tile roofs are unique, beautiful, and long-lasting. In Honolulu, the roof style most recommended is tile and many roofs made from tile last nearly forever! Roofing contractors in Honolulu provide their tile roof installations with a multi-year warranty because these type of roofs last for decades if not a century!

Roofs made of tile have very clear advantages but they also have a few difficulties when it comes to installation. Tile roofs are heavy and your home must be able to support the weight and each type of tile has to be laid in a distinct pattern to ensure that your home is waterproof and sealed against the elements.

Luckily for you, our team at Oahu Roofing & Repair has been installing and repairing tile roofs in Honolulu for decades! Contact us for a free consultation to determine if a tile roof will work for your home or business.

About Us

Installing a new roof on your home can be an expensive upgrade! If you don't find the right roofing contractor in Honolulu, you may end up putting in that roof twice due to faulty craftsmanship. When you need the job done right and have it coming in under budget, there's no other team to call besides Oahu Roofing & Repairs Honolulu!

The weather in and around Honolulu can cause problems when you want to make sure there are no leaks, holes, or gaps in the coverage of your home. Whether you need to get roofing repairs made before the next storm rolls in or you need a whole new roof installed to be sure your home stands out, Oahu Roofing & Repairs has you covered.

Roofers in Honolulu deal with a million different details that can affect the outcome of the roofing project from weather that just won't quit to design issues that reflect the culture and community of the island. Our team starts out with a free on-site estimate so no matter what types of snarls we encounter, your project will come in at or under budget.

Emergencies can happen any time and when your roof is compromised, your home is compromised. Our team is standing by to come to your aid, patch up your roof, and get you tucked back in bed in no time! Give us a call at Oahu Roofing & Repairs when you're ready for a new roof, repairs that will have your home standing out, or in an emergency to make sure your home is cared for!

Primary Services We Offer

Any homeowner can tell you that taking care of your roof is one of the most expensive investments you'll make throughout the life of your home! No matter what you need, Oahu Roofing & Repairs has you covered.

A whole roof replacement can cost you an arm and a leg so when you need just a few things fixed, start your estimate with some roofing repairs. One of our certified roofing contractors will visit your home, take stock of what your roof needs, and offer a free estimate! This gives you an idea of what your final bill will be before work even starts. You'll be able to protect your home and investment without breaking the bank!

When you've gone beyond simple repair and patchwork on your roof, the time may have come to completely replace your roofing system. While this will still be a significant investment Oahu Roofing & Repairs offers very competitive pricing so you can protect your home without spending your last dollar on it all.

Commercial roofing projects can be tricky as the standards change between residential and commercial buildings in general. Our team has you covered for commercial roofing projects too! Oahu Roofing & Repairs can make all the changes and make sure your roof is up to code for your next commercial project and building.

No matter what type of building you're repairing or renovating, Oahu Roofing & Repairs will make sure your investment is protected!

Primary Service Areas

Honolulu is a unique area of the world and the architecture reflects that. Our team cares about making sure that your home fits in with the local architecture and the landscape around Honolulu!

The weather in this area can cause havoc to your home and each season worsens the issues that are already made. When this gets to a critical point, you'll need to call for our services! Wherever you are in and around Honolulu, our team can get your home back in shape fast.

Sun, rain, wind, and all around weather in Honolulu can be a unique ecosystem that you'll need to deal with then working on your home. We're a part of this area, this community, and know how to deal with each and every issue that the area throws our way! Whether you want your home to blend in, or stand out, have simple repairs done or a whole new roof put in, we'll make sure it's done well and fits your families needs.

All of the homes in and around Honolulu offer protection and a beautiful view across the island! Our team sticks to that same theme when building your new roof and strives to make sure your home is protected and fits in with the overall community. There's no place like home and when you need protection from the weather that makes up our unique island, we'll be sure your roof is repaired or completed!

Why Choose Us

Protecting your home is one of the biggest investments you can make and you'll need a team on your side that can fix your roof, repair it, or bring your commercial building up to code. With 20 years of experience in roofing buildings in and around Honolulu, we know what it takes to make your building safe, secure, and fashionable!

The homes in Honolulu are unique and your roof is a big part of what makes the building stand out on the block. Instead of opting for a roof by a lackluster roofing company that may need to be redone again and again, invest with us once. We'll get your roof done right so you can keep your home, family, and belongings safe from the Hawaii weather.

Investing in a brand new roof is a big project with a lot of money involved. If there are just a few simple patches and repairs that need to be done, Oahu Roofing & Repairs can get them finished in no time. You'll keep your costs low but your belongings safe with our repair services.

Dealing with commercial buildings is a whole other type of beast. There are codes, regulations, and functionality that need to be considered when you're planning a re-roof of your commercial space. We take all of that into account and more when we work with you on an on-site consultation!

Your home is an investment but it doesn't mean repairs and fixes need to break the bank. Oahu Roofing & Repairs will help you get your home ready to go without costing you an arm and a leg!