Complete Roofing Services in Kaneohe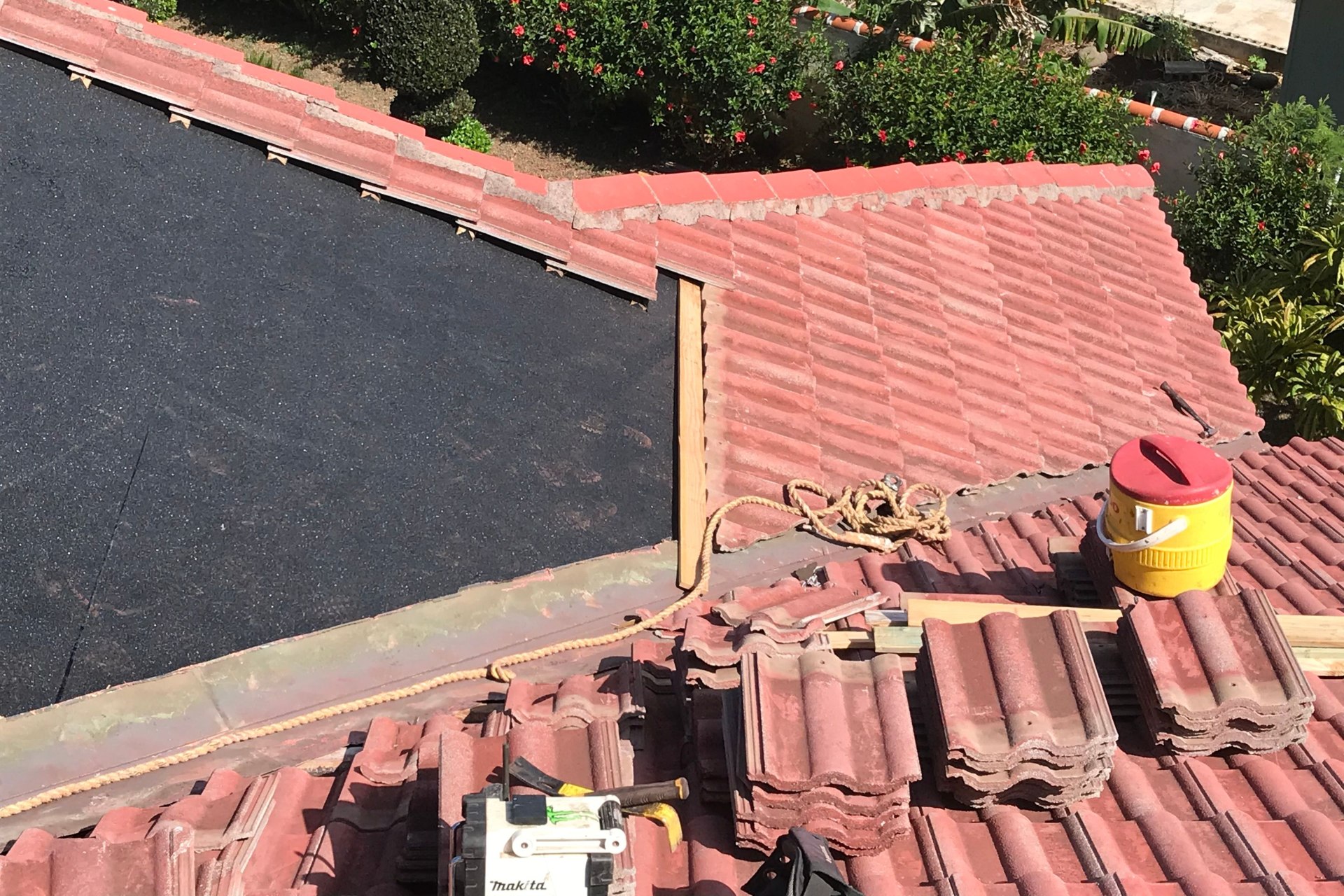 Oahu Roofing & Repairs offers a full range of roofing services with a personal touch on the windward side of Oahu! We handle all roofing aspects for any residential and commercial buildings including roof repairs, new roof installations, re-roofs, roof restorations, upgrades, insurance roofing claims, and more!

Our team brings you 25 years of roofing experience in Kaneohe with all aspects of roofing covered from structural repairs, carpentry services, roofing and gutter services. We also boast a full-service sheet metal fabrication shop that allows us to customize your roofing services specifically to your home, business, and family!
Comprehensive roofing services

Residential roofing
Commercial roofing
Industrial roofing
New installation
Damage claim specialists
Free estimates
Free in-home consultations
Military and senior citizen discounts
24/7 emergency service
Serving Oahu & neighbor islands
Throughout the roofing process, we're here to help you. No matter the size and scope of your project, we bring our experience to you to help get you the roof you need and want! All of our work is backed by a 7-year workmanship warranty that is valid for each of our projects.
The right kind of roofing in Kaneohe

In every project and in every way we want to make the roofing process straightforward and simple. Our team at Oahu Roofing & Repairs provides quality roofing services to residents of Hawaii and the neighboring islands that all meet the highest industry standards. Talk to us today for a free estimate and consultation and let us join your team to get your roof in great working order soon!

Affordable roofing services in Kaneohe

Oahu Roofing & Repairs believes whole-heartedly that quality roofing services and contractors don't need to be expensive! We offer competitive rates to our clients that include senior citizen and military rebates in Kaneohe. When you want to invest in your property, get in touch with us for high-quality, budget-friendly roofing solutions from your friendly neighborhood roofing contractors!

The best quality roofing solution in Kaneohe

Buying your home is making an investment in your future and when you invest in the roof of your home you protect and increase the value of the home overall. Our Kaneohe roofing contractors use superior products, equipment, and techniques to give you the best roofing solutions. We approach each project with the idea that the project and your family are unique and create solutions that cater to your specific needs. Oahu Roofing & Repairs is standing by and waiting for you to help with any roofing services like damage claims, roofing installations, 24/7 emergency roofing services, and even re-roofing!

Precise solutions for your residential and commercial roofing needs in Kaneohe

Roofing repairs in Kaneohe should be simple and we aim to give you no reason to worry about your roof. To start the process toward getting your roof repaired or installed, we offer free in-home consultations and free estimates. We also have lots of experience in filing claims with your insurance company and can help walk you through the process!

We work on projects big or small and our experienced roofing contractors at Oahu Roofing & Repairs have done projects from re-roofing to new construction! Our roofing services extend to 24/7 emergency services in case you have any problems that require immediate attention. We're ready to help you, no matter the project, time, or place in Kaneohe; call us today to get our dedicated team to your site for a free estimate.

Interior and exterior roofing services

Installations
Shingle
Shake
Metal
Steel
Standing seam
Aluminum shake
Tile
Slate
Metal bending
Rot repair
Pitched roofs
Copper
Ceramic tile
Flat roofs
Tear offs / re-roofs
Roof coatings
Covers
Emergency tarping
Torch down bitumen
Tile painting
Flashing manufacturers
Storm damage
Protect your largest investment: your home

Let's face it: roof damage happens and when it does you want a team of professionals that can tackle the job no matter how big. Oahu Roofing & Repairs can help you repair any roof damage and protect your roof and home. For every project we source the finest products like PABCO roofing shingles, at an affordable cost and our roofing contractors get the job done with their exceptional services!

Schedule your free on-site consultation

New installation
Shingle/tile roof
Wind damage
Hail damage
Hurricane damage
Water damage
Insurance inspections / bids
Plan your next roofing project

Our team works with a wide range of insurers to make sure your home and roof are covered if they happen to be damaged or have a defective roof. Starting with a free inspection and consultation, we help you file claims so your roof repairs are covered.

Enhance your commercial space

Running your business takes a lot of time and worrying about the roof over your head is an unnecessary strain on you. Oahu Roofing & Repairs can take care of all your commercial roofing needs from new construction, maintenance, and insurance work! All of our roofing services and solutions are tailored to you and your business. So let us stress the details of your roof so you can focus on running your business!

Types of roofs

Commercial / industrial
Condos
Apartments
Retail stores
Restaurants
Investment properties
Hotels
High rises
Schools
Military installations
Churches
Bus stop shelters
Coatings

HydroStop
Visqueen
Gaco
ABC Roofing Supply
PABCO
Rustic metal roofing
CertainTeed
We've been working in this community and industry for 25 years on Oahu and over those decades we've developed great relationships with property management groups including Waipio Gentry, Hawaiiana Management, and Hawaii Property Management. This has allowed us to obtain approval from an insurance provider for the roof replacement of every roof in a single apartment complex. We love and cherish our community and neighbors here on Oahu and want to provide great services for every project at an affordable price!
Roofing damage claim professionals

Working with insurance companies and providers can seem like a daunting task. Our insurance claim team has 10 years of roofing damage claim experience in Kaneohe so we can guide you through the process with ease! Oahu Roofing & Repairs strives to not just fix your roof, but walk with you through the entire insurance claim process. When we work with you and your insurer, we're trying to get the best solution for you and we keep your needs at the forefront of our negotiations, every time!

We'll work with your provider

Residential / commercial
Damage claim experts
Excellent results
Inspections
Bid preparation
Quality workmanship
The first step toward making sure that your replacement or repair is completed on time is a free estimate with Oahu Roofing & Repairs. Once we complete the estimate we work with your provider to ensure there's no delay in getting all of your repairs and replacement done. Our estimate is done on-site and is forwarded to your insurance provider.
Throughout this estimate and consultation, we'll give you all the details of the job and how your roofing contractor will complete the project. This gives you time to ask questions and get real-world answers on how your roofing project will be finished. Each roofing solution is unique and we strive to make sure that each project is a custom fit to our clients' needs and specifications.
Talking with your insurance provider can be daunting but our team is here to come alongside you with 10 years of insurance claim experience! We work with you and your provider to offer assistance and get you the best deal possible
Weather damage can happen anytime and when it does you can call us at Oahu Roofing & Repairs to come help 24/7! Our team works hard to protect you and your family especially during bad weather.
Metal roofing Kaneohe

Metal roofing in Kaneohe is an excellent choice for home and business owners alike. The roof will last for decades and save you on energy costs over time. Oahu Roofing & Repairs can help you install or repair your metal roof to keep it looking great and protecting your investment for years. If you notice damage to your metal roof, contact us to get repairs done fast!

Metal roofing installation in Kaneohe

Our roofing contractors have nearly a decade of experience with metal roofing and we can get yours installed with efficiency, accuracy, and skill! Whether you're adding a new metal roof or adding one to a new construction site, we can get it done.

Rely on us for expert metal roof repair

Installing a brand new roof can be a huge investment but having problems or issues like storm damage or leaks can cause more issues and trouble down the road. Investing in metal roof repair services with Oahu Roofing & Repairs will get your roof back into like-new condition in no time! Our metal roofing contractors in Kaneohe will make sure that everything is up to code and that your metal roof is looking and working great.

Asphalt shingle roofing services in Kaneohe

Coming up with creative, cutting-edge shingle roofing solutions is a large part of what drives Oahu Roofing & Repairs in Kaneohe. We offer the best solutions for shingle installation, replacement, or repair. All of our jobs are done to meet the top industry standards so you don't have to worry about chipped or broken shingles. Our team has been doing top-rated asphalt shingle jobs in Kaneohe for years and every job is offered at an affordable price!

Reliable shingle roof repair in Kaneohe

The last thing you want when you set out to get your shingle roof repaired is to have mismatched colors or patterns and leave your houses curb appeal worse off than when you started. Our team is licensed, insured, and a bonded roofing company that can seamlessly blend your current roofing materials with the repaired ones! Oahu Roofing & Repair works with you to get your home and roof looking great again in no time!

We work with wood, tile, asphalt, and slate shingles to get your roof looking great in no time! Our team takes great pride in our work and we provide a warranty on all of our work. If you want to get your roof looking like new again, give us a call!

Tile roofing contractor in Kaneohe

Tile roofing jobs can get complicated quickly but our team has years of experience working in tile installation and repairs! Every tile roofing job gets our full attention and we customize each job to our clients' needs and wishes. We get results that are unmatched in all of Hawaii and we're dedicated to making sure that you're extremely satisfied with the end result. Contact us today to get started with our team of roofing contractors at Oahu Roofing & Repairs!

Tile roof repair in Kaneohe

Tile roofs are beautiful and functional but they can be a bit delicate. Rainwater, strong winds, and storms in Kaneohe can easily damage some tile roofing systems. When you need help getting your tile roof back to excellent condition with no damage anywhere, give Oahu Roofing & Repairs a call! We'll be sure to get your tile roof looking great with no storm damage in a flash!

About Us

Every home is unique and a large part of the design that sets your home apart is your roof! Homes in Kaneohe are some of the most beautiful on the island but the roof can't just be for show, it has to stand up to the harsh winds, rains, and storms that blow up without warning. When you need to combine aesthetically pleasing roofing materials with work that will stand the test of time, Oahu Roofing & Repairs is the team to call!

Our team of roofing contractors has been operating in and around Kaneohe for over 2 decades! We know what it takes to make sure your home is protected without sacrificing your style in the process. Everything from simple repairs to putting in a whole new roof is part of our daily routine.

Your home or commercial property should be well-protected and by investing with the best roofers in Kaneohe you'll save yourself time, money, and effort in the future! Damage to your roof can happen at any time and when emergencies blow in, give our team a call. We'll come help you get back into your home even when the timing isn't ideal.

A home is a major investment and you want to keep it looking it's best for years to come. While you could clamber up a ladder and do the work yourself, save time, effort, and money by investing with the best roofers in Kaneohe, Oahu Roofing & Repairs! We'll do the hard work for you!

Primary Services We Offer

Taking care of your roof on your own is a lot of technical work, trouble, and money that you'll need to invest for a result that may not be what you need. Before you haul out the ladder and climb up on the roof, give our team a call! We start every roofing project with a free on-site consultation so you'll know exactly what your project requires before anyone needs to get out a ladder.

Putting in a whole new roof is one of the most expensive things you'll need to do for your home and if you're not quite ready for that investment, getting a few simple repairs done will patch up your leaky roof. Oahu Roofing & Repairs can patch, cover, and reconfigure your roof so that you don't have to deal with leaks and drips when you least expect it.

When you are ready to do that roof replacement, our team is waiting! We'll start with an on-site consultation so all the details can be ironed out then we'll get started. We offer a whole host of options for roofing materials so you can choose what works for your Kaneohe home and your personal style.

Your business deserves just as much love and attention as your home. Our team knows what it takes to keep your commercial building looking great and protected from the elements! There are details that need to be considered for commercial buildings and we'll take care of them all.

Primary Service Areas

Our little corner of the world is unique! The eco-system, architecture, and community is one-of-a-kind and solutions to issues should fit just your situation.

We're ready to travel and we'll come to you when you need roofing repairs, re-roofing choices, or commercial roofing work done. Everything we do seeks to keep our eco-system and the entire area in and around Kaneohe pristine for future generations. Debris is all disposed of carefully and our teams are always looking for ways to serve the community!

The architecture in and around Kaneohe is unique to the island and your roof should reflect that same unique design. With 20 years of experience working with homes in this area, we know what fits your design and what will stand up to the Kaneohe weather. After all, design is only half the issue when you're talking about a roof!

Storms can cause major issues in this area and we know just how to handle it! Things can happen in the middle of the night and instead of just waiting with the ceiling dripping on your head, our team can shore things up so you can stay in your house even after a storm. We'll work with you to get things fixed up and ready so the next storm won't throw you out of your home!

Our team is part of this community and we take great pride in keeping it up! Your home in Kaneohe is in great hands as we re-roof, repair, and take care of your greatest investment on the island.

Why Choose Us

Your home is your greatest investment and in a place like Kaneohe where storms might blow up at any moment, you want a roofing contractor who knows exactly what they're doing. With 20 years of experience in the roofing industry, Oahu Roofing & Repairs works with you to make sure that all the little details are taken care of in your next roofing project.

Skip climbing up the ladder yourself when your need to patch or repair your roof and let our team take care of the details. Your roof is part design and part functionality so Oahu Roofing & Repairs works to keep both in balance. Instead of jumping straight to a whole re-roofing project, our team will repair your roof so you save money and keep your investment safe.

If you do need a whole new roof, we'll be sure to start with a free on-site investment so you know what you'll be getting into before we ever break out the ladder. All of the details for your re-roofing project or commercial roofing job are handled by our expert team. You'll be included in all of the planning so you're aware of changes we're making while we take care of your home!

Twenty years of experience in the roofing business makes us experts in all things roof related! We want to help shore up and protect your home so give Oahu Roofing & Repairs a call to get started with an on-site consultation.