Commercial roofing services on Oahu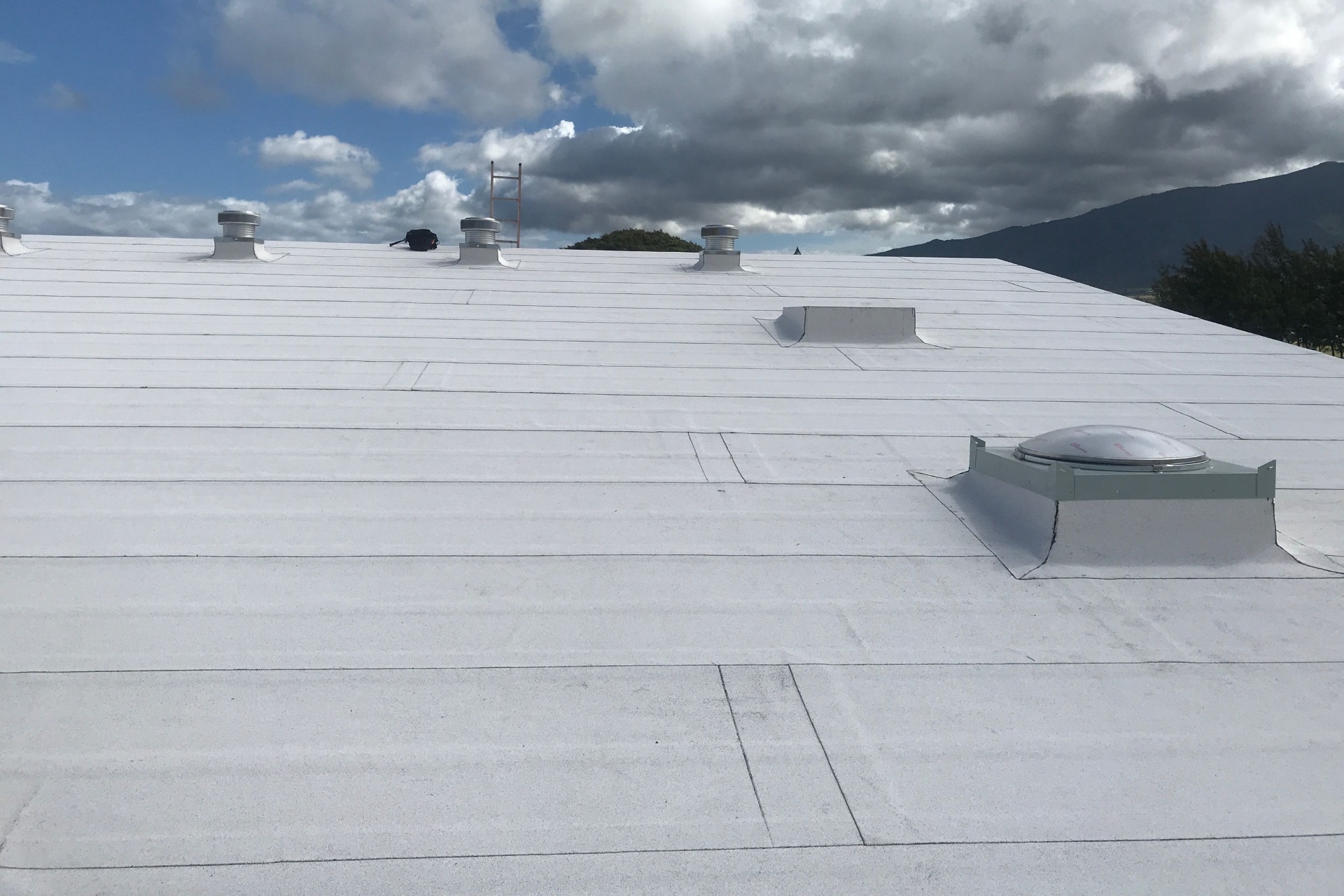 Oahu Roofing & Repairs installs new commercial roofing systems including metal, tile, thermal Poly olefin, (PVC), single-ply and multi-ply (TPO), APP and SBS modified Bitumen (EPDM) rubber, (BUR), and built–up hot asphalt roofing systems. Every new roofing system comes with maintenance schedules, projected repair, and replacement analysis.

We also provide options with high-energy photovoltaic efficiency and "green" options that offer greater energy efficiency! This includes the industry-preferred green product reinforced acrylic elastomeric low slope roofing. This product is made out of (TPO) thermal polyolefin, (PVC) polyvinyl chloride, (EPDM) rubber, and reinforced acrylic elastomeric. We provide the option of a low initial and annual cost instead of expensive new construction. Warranty periods are based on the individual roofing systems' expected useful life, which will depend on your roofing choice. Your roofing systems' life expectancy for warranty is generally 10-20 years and inspections for these systems happen annually and maintenance is every 1-3 years.
Types of commercial roofs

Commercial/industrial
Condos
Apartments
Retail stores
Restaurants
Investment properties
Hotels
High rises
Schools
Military installations
Churches
Bus stop shelters
Coatings
HydroStop
Visqueen
Gaco
ABC Roofing Supply
PABCO
Rustic metal roofing
CertainTeed
Commercial roofing repairs

When your business has a roof that needs to be repaired, Oahu Roofing & Repairs will get the job done quickly at a reasonable price! We're ready to respond in an emergency. We'll analyze your problem, explain your options, and give you a free estimate. Oahu Roofing and Repairs is a top roofing contractor in Hawaii so we're experts at dealing with a wide range of commercial roofing problems and other roofing issues, including low slope roofing repair and flat roof leaks. The biggest problem anyone faces in the roofing industry is shoddy repairs, and a bad repair job can cost thousands down the line to fix work that never solved the original problem. Oahu Roofing & Repairs will complete your commercial roof repair correctly the first time. Our team has the experience and skill set needed for a job as critical as protecting your home or business through a quality roofing solution!

Commercial roofing replacements

Oahu Roofing & Repairs has built our reputation through years of providing quality roofing repairs and installation. Our experience has given us the knowledge we need to install whatever type of roofing system you want. We have experience working with a wide variety of commercial roofing materials on all types of buildings and we're ready to help your company with a quality roof!

Throughout the years we've been repairing or retrofitting old properties and installing roofs on brand new projects so we're familiar with the best manufacturers of commercial roofs and can offer you the best quality and guarantees in the industry! Oahu Roofing & Repairs is prepared to back up our installation with a guarantee. Be sure to get your work done by the best commercial roofing contractor on the islands and give us a call for an analysis of your roofing project and a job estimate!

Commercial roofing applications

Oahu Roofing & Repairs is qualified to handle all major commercial roofing systems with some of the most trained and experienced commercial roofing installation crews and managers in the industry. Our employees have been with us for a long time, with several members of the team holding 10- 20 years of experience with us. This is a testament to our reliability as a company, so you can rely on us to give you the highest-quality roofing system for your next commercial project!